We had a beautiful day for our paddle boarding adventure. Twenty four members and guests met at Jersey Paddle Boards in Greenwood Lake, New York, just north of Warwick. The skies were blue all day and the weather was warm, but not too hot. We could not have ordered better weather!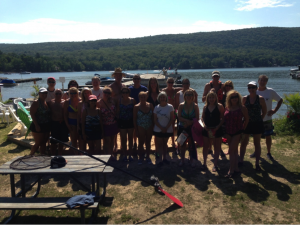 The group – 24 paddle boarders!
We met at 10:30, got checked in and changed. Then we gathered on the beach to be fitted for our boards and paddles. This is where our host, Micki, had her biggest challenge of the day – fitting Doug O'Brien with a long enough paddle! But she got him and all of us set up with equipment and floatation devices and we headed to the beach.
While on the beach, Micki gave us a brief on-shore lesson and safety tips, then sent us to the water. We walked into the water with our boards until we were about waist deep, then we got on our boards, starting on our knees to get a feel for the board and the waves. Then one-by-one we all stood up and made our way across the lake.
We headed to a quiet cove to start our two-hour ride. Once people got comfortable on their boards, we headed to a nearby swimming cove in the lake. We had a chance to paddle or swim around that area for about 30 minutes. Then most of us headed back to the cove where we had spotted a refreshment stop earlier. We found a picnic table outside and gathered for a quick cold-one before heading back onto the water. We all made it back safe to the shore by 1:30 (she gave us an extra 30 minutes!)
After turning in the boards and cleaning up, we met next door at the Breezy Point Inn for some lunch. We were able to sit on their patio at tables overlooking the water. It was a picture perfect day! And thank you, Janet, for bringing a camera on the water so we could have some action shots! We all had so much fun we decided to make this an annual event. So watch for it next year!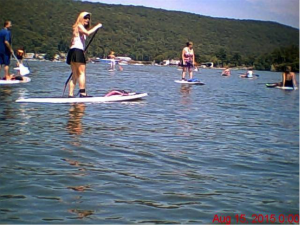 The swimming hole
Refreshment stop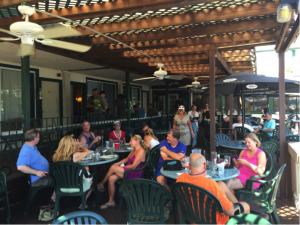 Breezy Point Inn