What a fantastic weekend!
On May 15, the MCSC trekked up to Cape Cod. We had a full house with 30 people staying at the Blue Water resort in South Yarmouth MA. Most of us arrived at the hotel by dinnertime and walked to a local seafood place on Friday night.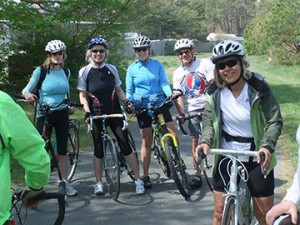 Saturday morning we started off with their yummy breakfast at the hotel, I was digging the whole-wheat pancakes with fresh fruit. The staff at the resort was so friendly and accommodating, they were very happy to have our club there.
At 10 am we met at the southwest end of the rail trail and divided into 2 groups, the short ride had about 20 people and the long ride had about 10. After taking care of some bike triage, flat tires etc. we were off. Thanks Paul, Steve, Dan, Frank, and Rob, you guys are so very generous with helping all of us with the logistics and gear.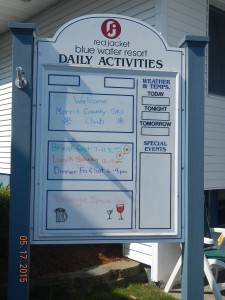 I led the short ride headed to Chatham, until we hit a fork in the road and accidentally spilt into two groups. Tony and John took on the role of leading that group and making sure every one got back to the parking lot. Chivalry is alive and well in MCSC. Our group stopped off at the Fish Pier, and the lighthouse, and some even had lunch in the town of Chatham. John shared some of these photos on Facebook. Our group rode between 25-29 miles.
Paul and Frank led the long group up to South Wells Fleet. I can't even summarize what this group did, they did it all. The total mileage was about 55 miles. They stopped for many great pictures which Janet and Paul posted on Facebook. Unfortunately the long group didn't make it back before the brief rain shower.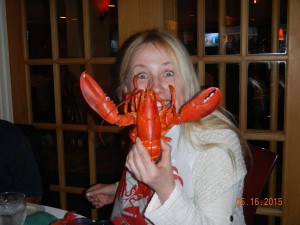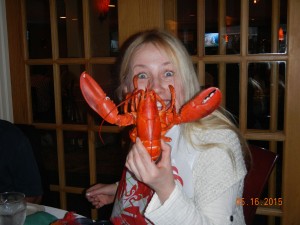 We returned to the hotel, enjoyed the hot tub and indoor pool a bit, and then got ready for our group dinner. The resort put out a fabulous spread for our Clam and Lobster bake; I think they had enough Lobster for about 40 people.
Next it was onto dancing. There was live music in the bar next to the restaurant. Irina our "Russian dancing queen" got everyone up and dancing, including a group of new friends. We closed the place 4 hours later. I am not sure what was more of a workout, the bike ride or dancing.
On Sunday the weather was perfect, we all split off and did our own thing. Tony and a small group went to Nantucket for sightseeing. A few went to Chatham for the afternoon. Some stayed at the hotel and enjoyed the pool and the beach. And a few of us headed home early.
I only wish we had an extra day there. I would certainly go back again.
Thank you all for your help, especially Mary, Paul and Frank.
Bev