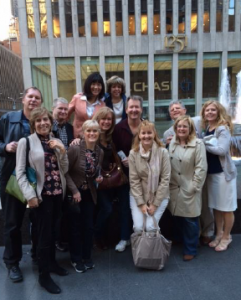 By Karen Bybel
On Sunday, April 12th, a happy group of 20 ventured into The Big Apple on a most beautiful Spring day for the newSpring Spectacular show at Radio City. Even before the show, we had a great time gathering at Rosie O'Grady's for beverages, snacks and socializing!
The Spring Spectacular is an all new show containing some super star power with Derek Hough (of Dancing With the Stars) and Laura Benanti (of ABC's Nashville and The Sound of Music Live) along with the famous Rockettes and a great ensemble of other actors and dancers. There was an interesting story line about an angel in NYC working to earn his wings. Lots of famous NYC sites and personalities were included in very clever ways and the multi-media effects were fantastic. They sang and danced in the rain (yes, really!) – we are all still wondering how they did that. Some audience participation was also mixed in and we even had our own individual blinking "jewelry"! Totally fun!
After the show, the group wanted to party on, so we headed over to Langan's for some additional beverages, snacks and socializing. Overall, a great day in the city for all!