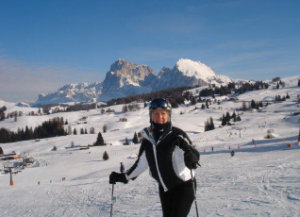 Dear MCSC,
So this is it, my final President's message. I would to thank all members for giving me the opportunity to serve as your President for the past 3 years. I thank all event and trip leaders – way too many to mention – who assisted in providing countless opportunities for members to have a great time on Ski and Social events and experience some new things. Next, are the dedicated support members who provide endless hours- behind the scenes – helping the club run smoothly. In no particular order –Thank You:
Beth Hyslip – Webmaster Elle Bisignano – Ski Tales Editor Mary Chaplin- Meetup Coordinator Bev Thomas- Facebook Coordinator Nancy McLaughlin – NJSSC Council Rep
Lisa Margolis – AAF Coordinator Paul Van Duyne, Judee Treanor and Frank Cross – Election Committee Members
Finally I would like to thank my fellow Board members – Karen Smith, Lisa Margolis, Herb Imbornoni, Ed Tideman and Barbara Gallo. It has been an absolute pleasure working with all of you.
On June 1 our new Board will take office. Best of luck for a great year to:
Karen Smith – President
Scott Mitten – VP
Bev Thomas – Treasurer
Lisa Margolis – Secretary
Ed Tideman- Ski Director
Barbara Gallo – Membership Director
As your Past President, I will be available to assist you – as you need.
Thanks
Helen